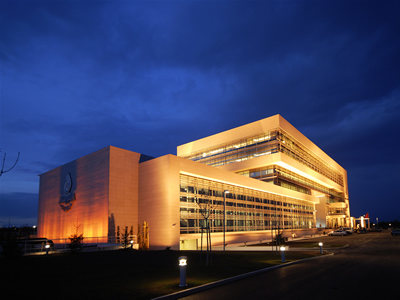 The Turkish Constitutional Court was established by the 1961 Constitution. It was modeled on the European constitutional justice practice. The functions and organizational structure of the German, Italian, Yugoslavian and the Austrian Constitutional Courts were taken into account in giving the final shape to the Court. Like most European Constitutional Courts, it exercises a posteriori control of the consistency of the laws with the Constitution.
The Turkish Constitutional Court began to carry out its activities upon the enactment of the Law on the Establishment and Judgment Procedures of the Constitutional Court (No 44, 22 April 1962). The power to review the constitutionality of laws was endowed solely with the Constitutional Courtby the 1961 Constitution.
The system of constitutional review established by the 1961 Constitution was preserved in the 1982 Constitution with a few changes. In the 1982 Constitution, the Constitutional Court, being one of the highest constitutional organs, is on a par with the Grand National Assembly and the Executive and placed as the first judicial organ among "the High Courts". Articles 146-153 of the Constitution lay down in detail the composition, duties, working methods of the Constitutional Court and other issues concerning constitutional review. The Constitutional Court carried out its duties until 2011 according to the Law No 2949 (dated 10 November 1983).
Since the composition, powers and structure of the Court were changed considerably by the constitutional amendments in 2010, a new law was enacted in 2011. The new Law on Establishment and Rules of Procedures of the Constitutional Court (No 6216, 30 March 2011), spelling out the provisions of the Constitution, stipulates its organization, independence, proceedings, disciplinary infractions and disciplinary proceedings. The Law No 6216 vested in the Plenary of the Court the authority to regulate its rules. Therefore, the more detailed rules on the organization and procedure of the Constitutional Court are established by the Rules of Procedure of the Court.
The Turkish Constitutional Court's task is to ensure that all institutions of the state abide by the Constitution. Since its foundation in 1962, the Court has helped to secure respect for and effectiveness of democracy, the rule of law and fundamental rights and freedoms. Consistently abiding by the Constitution, the Constitutional Court guarantees the irreversibility of the fundamental principles of the Turkish Republic.